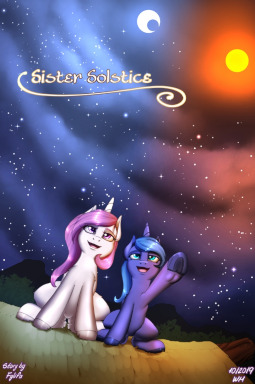 Forty years after the first Hearth's Warming and the founding of Equestria, a unicorn filly discovers a magical secret that will change the world.
But her sister worries that's not all that will change.
*Entry in Fanofmosteverything's Imposing Sovereigns II: Once and Future contest. For Coronation: Celestia
Edit: Won a Honorable Mention!
*Set in the distant past, but background details are helped by having seen S2E11- Hearth's Warming Eve, S3E13 - Magical Mystery Cure, and S8E07 - Horse Play
*Editing by ClanCrusher
*Cover done by Wolfmask
Highly Recommended - Presentperfect
*Cleverpun's Review
*Featured on Seattle's Angels!
*Featured on Equestria Daily's 2020 Luna Day Fic list! 🌙
*Featured on Equestria Daily's Spotlight!

Chapters (3)