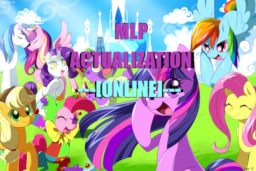 My Little Pony is now online, a fully instillation of the TV series as a MMORPG, designed for players to fully integrate themselves into the story, and their choices dictate the world's evolution, from characters, to new locations never seen before, and antagonist who are as real as their TV counterparts.
But when two brothers make a simple bet over the events of the game, along with a tiny bonus to their beginning, things will begin to break down at the seams, but is it really because of them, or has something else been playing God, because now no-one can log out of the game?
Note: Arc 1 is the set-up to the main story (Characters, mechanics). Also, 'Sex' tag for suggested themes. Also, do not read in Black Backgrounds due to some text types being darker
Art is not mine, obviously.
A/N: MLP: AO Remastered Here: The Rewritten Story
---
Inspired by SAO, Log Horizon, and No Game No Life
Chapters (26)