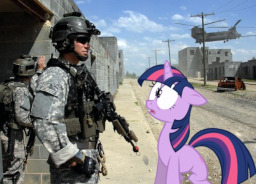 Source
When a United States Army Ranger arrives in Equestria, the land is plauged by chaos, even the Royal guards cannot fight them off. Befriended by the mane six, the soldier is hired to help guard and fight for Equestria...
A reposting of a story on fanfiction.net
http://www.fanfiction.net/s/7921895/1/Guardians_of_the_Elements_of_Harmony
Author has consented
I remember noticing some grammar errors when reading this first time, unfortunately I'm too lazy to correct. If you guys'll comment on them, I'll fix 'em.
Chapters (47)