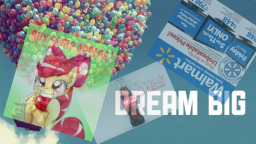 Luna has a problem. A money problem, that is. You see, for the past thousand or so years, Celestia's kinda been... *cough* borrowing *cough* from Luna's share of tax money, leaving the younger sister rather broke.
On top of that, she's found herself as quite the gamer, even sporting the name "N1GH7M4R3-M00N" in the virtual worlds of games. Unfortunately, her current allowance is far too little to support her new hobby...
So why not put advertisements in dreams?
Chapters (1)