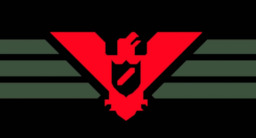 Source
After a historic agreement, the border between Arstotzka and Equestria will open, allowing the citizens of these two parallel universe to travel from one world to another.
Will these two words be able to coexist?
And above all...
How much can the events be influenced by the decisions of a simple checkpoint's Inspector?
This will be a crossover between "Papers, Please", a game developed some years ago, and "my little pony"
Credit:
- Inspired by Arstrotzka Welcomes You: A Papers, Please Crossover. and this video
- Story developed with the HUGE contribution of VocareAdVacui (Prologue, chapters 1-2) and Jay Tarrant (chapters 2+) as proofreaders.
- Cover art taken from the game "Papers, Please"
[N.B.] TAGS could change as the story progress.
Added "Violence" TAG for the presence of minor violence scenes.
References to "Alcohol" and "Cigarettes".
Chapters (17)