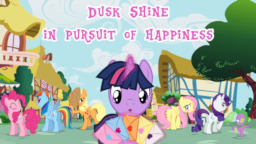 Dusk Shine is sent to Ponyville to discover what is friendship. But could a colt that doesn't recognize the friendship, recognize love?
Another story about Dusk Shine and his Harem, but with my personal touch, with more humor, romance and adventure.
ps: This story contains some drawings made by me. It's not a comic, each chapter has one or two sketches showing some particular fact from each chapter.
See my other works: BigSnusnu
Chapters (57)