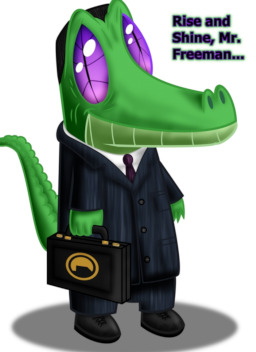 Source
It was supposed to be so simple. Step into the teleporter and join Eli Vance and his daughter, Alyx Vance at Black Mesa East. Of course, life hardly proved to be simple to Gordon, and today was no exception. Having only just been brought back by his inhuman 'friend', Gordon once more finds himself face to face with the not quite human individual who seems to hold a particular interest in him. Worse, this face to face just so happen to coincide when the teleporter goes ballistic thanks to a certain domesticated headcrab.
Now Gordon finds himself in a strange world with even stranger inhabitants, without any weapon to defend himself. Will he be able to survive, or will the magic of friendship and harmony do irreparable damage to his respectable intellect?
Also, just where did his crowbar end up?
---
This fic was requested by Mr-War. Although he was not all too specific with what he wanted other than it should be a crossover with Half Life, and just let me come up with the general story. So, here it is. A silly fic about Gordon going on a chase to find his crowbar. Don't expect it to be too serious. Characters may act out of character from time to time, although I do try to keep it to a minimum. Updates will also be sporadic, as I am focusing most of my time on my own fics. But those who know me should be used to this by now.

---
This fic showed up in the feature list on:
August 30th, 2016.
Really, guys. Thanks.
Chapters (5)