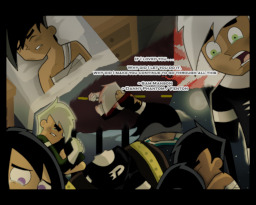 This story, in Danny Phantom's p.o.v., takes place after the series, but starts during the finale Phantom Planet.
In MLP's p.o.v., it takes place after season 2, but with changes that are not canon with season 3.
The story will take an alternate direction completely different from the finale Phantom Planet.
Danny Fenton, just your average teenage boy.
He goes to school, has to deal with bullies, homework, fight ghosts, and keep his other half a secret from his family.
After an accident with his parents ghost portal, his D.N.A. became infused with ectoplasm, turning him into a half ghost.
Now Danny Phantom, he took it onto him to fight ghost while struggling to learn to control his new found powers. Luckily, he has his two best friends, Sam and Tucker, with him to help him deal with the everyday ghost life.
Together, they went through all kinds of supernatural adventures. Together, they stood in the way of many ghost attacks. Together, they kept their city, Amity Park, safe. Together. Always together.
Until that one fateful day. The day that everything changed. The day that three became two, and Danny's life changed forever. Struggling with his guilt for his failings, and letting down the one meaning most to him, he runs away; desperately trying to get away from the nightmares that haunt his memories. But, as the saying goes: ''You can run, but you can't hide.''
---
Sex tag is there for sexual innuendos and references in later chapters. There will be no clop.
---
Click: Silver Spirit, Ghost of Equestria, to go to the side story of this fic. Which is important, as a lot of things happening in this fic are important for Guilt of a Phantom.
And click: The Baltimare Incident for the story that happened before Goap and SS, GoE.
Read them in this order.
1. Guilt of a Phantom.
2. The Baltimare Incident after the chapter: Hunting the Hunter's Hunter. Earth.
3. Silver Spirit, Ghost of Equestria after the chapter: The Day the World Looked Pink-ie Pie.
And, while you're at it. Click Guilt of a Phantom: New Destinies for a spin-off fic written by Crepusculo.
Chapters (32)