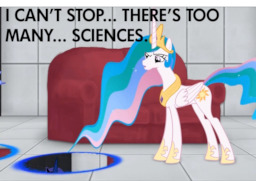 Source
This story is a sequel to Gordon Freeman's Side Trip To Equestria
---
What promised to be just another day filled with royal duties, politics and politicians, Princess Celestia instead find herself trapped by an unknown, briefcase carrying individual who sends her away to keep her from interfering with Gordon Freeman's story as he journeys across Equestria to find his trusted crowbar.
Of course, this story is not about Gordon Freeman, but Princess Celestia, and she's no longer in Equestria... except at the beginning of chapter one where she is sitting on her throne, waiting for this thing to get started while thinking about cake... Oh, right. Spoilers.
But taken away by this unknown and powerful being, Celestia now finds herself in a strange facility, with a stranger device, and an even stranger disembodied voice desperately trying to kill her. And during all of this, there is only one pressing matter on her mind, besides of finding a way back home: Is the cake truly a lie?
She's determined to find out.
---
If you've read the previous fic, you know what to expect. If not, go and read the previous fic first. Though it is not required to understand the story told.
Chapters (9)