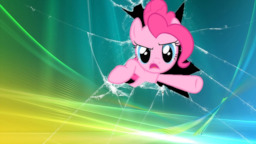 Source
While doing a virus scan, your software detects a file named PinkiePie.dxz. Suddenly, Pinkie Pie herself rips through your desktop background like paper, and starts talking to you.
Being a brony, you're happy to see her. That is, until she starts going through and messing with your files.
This can't be good.
---
Written in one hour, totally impromptu. Forgive me if it's a convoluted mess.
---
**Popular from May 26 – 28, 2016

Chapters (1)