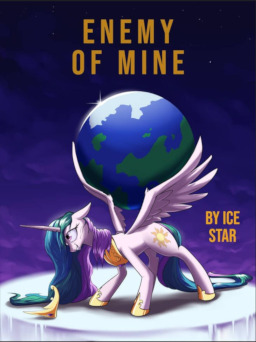 Source
A few years after Luna's return it seems that Equestria will finally know an era of peace and appears to be on the verge of a new renaissance. Ponies are blithely happy, as they are often.
Luna is recovering, and happier than she's been a long, long time.
Celestia is miserable. She's faced with unexpected changes, like always. It never really mattered until she was faced with something (or rather somepony) she wasn't sure if she could cope with, and everything that came with him.
Now, it feels like she is watching the world fall apart. Her world.
---
Book One of the Strange Future arc. Thanks to NorrisThePony for proofreading and editing help! There are also unmarked spoilers in the comments. Content warnings are for discussions, themes, and 'off-screen' events. Contribute to the TVTropes page! The lovely art is by Rocket Lawn Chair but it has been edited by me. Old cover art by Alumx may be found here. Find the previous arc here!
Chapters (18)