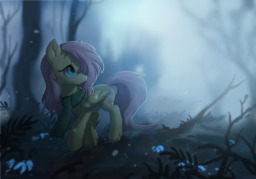 Source
Only Fluttershy knew this whole time...
Nopony understood her as much excluding her friends, even then, Fluttershy had other secrets that even her friends do not know. She had her own ways to deal with things, her own light to help her see for herself. Which is why she is so distant from everyone other than herself, no one can understand her.
A peaceful walk guided by Luna's lampshade, in a place that nopony understands either that is.
Kindness will always be rewarded with such amazing feats...
A great big thanks to Z-blade Gracin for helping me edit + proofread this work!
And a big thanks to the artist: miltvain!
Chapters (1)