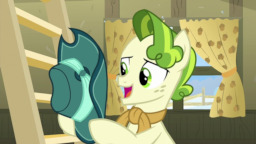 "This is a Fedora Felt original! Look at this bold stitching! These daring textures. It's a whole new take on western chic! There is no way I would wear it in the grove."
I could still recall those words floating in my head seventy years ago... But here I was, all alone in this isolated farm once again, collecting nuts, feeding squirrels, back to where I started when I was a mere colt. And through that period of time, a lot has slipped away from me. But what stands out from them all, is the one and only gift I've kept sacred until this very day...
Based off the MLP holiday special, Best Gift Ever.
Chapters (1)