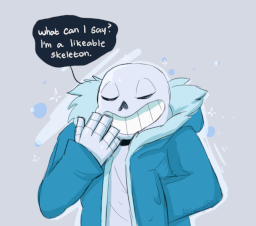 [DON'T READ UNTIL YOU HAVE FINISHED UNDERTALE]
Sans, after being defeated by the human Frisk, gets sent to Equestria. Will he be accepted? Will he help our favorite pony's? Or will the memories he contains from the resets break him and cause him to distrust everyone?
"Or will I just be to lazy to give a bone?"
[Expect bad jokes, slight tear jerking, and a Sans who remembers all of the times he killed Frisk.]
---
Edited by Bryce98
"He's a pretty bryce guy! *snickers*"
---
MLP:FIM is owned by Hasbro
Undertale is owned by Toby Fox
Cover art belongs to AllSeeingOwl on deviantart
Chapters (2)