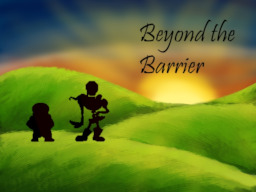 After so long, the barrier preventing the monsters of the underground from feeling the sunlight on their skin (or fur, scales, bones, etc.) has shattered. Everyone is exploding with anticipation to see the horizon from the top of Mt. Ebott, to feel the clean fresh air, and to experience the wonders of the surface. Giddy excitement turns to confused shock when everyone finds them self not atop a mountain overlooking the sunrise, but in a dark forest with an air of fear in the mist at their feet.
The lives of the residents of Ponyville get a little more interesting when seven visitors unlike anything Equestria has ever seen appear out of the Everfree forest. While they are intimidating at first (especially a certain blue one), they are quite friendly once you get to know them. There are only a few problems, they have nowhere to stay, and many more of their kind are coming.
Crossover between Undertale by Toby Fox and MLP:FiM. Set at the times of the True Pacifist ending and before the Season 4 finale respectively. Moderate spoilers for Undertale.
Chapters (4)