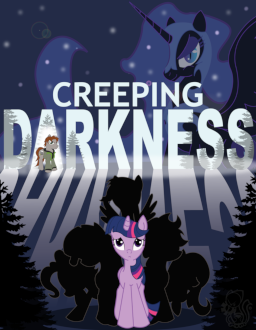 ====Originally Written June 2011=====EQD Link====
There is a shadow to all of existence, a place that all worlds are shielded from by a thin veil. A Dark Place, where a single presence plots and struggles to consume all creation with its darkness. The author Alan Wake is one who has defeated this Dark Presence, but to save his wife and his world Alan had to remain trapped in the darkness.
Now, through his struggles to return to his wife, Alan has unintentionally released the Darkness and an old villain upon Equestria. To fix the mistake, Alan starts a new story with Twilight Sparkle as the protagonist. Can the unicorn find the strength to face the darkness, or is all of Equestria doomed to be the victim in the dreadful horror story?
Note: Story assumes no preceding knowledge of the game Alan Wake. Written for any MLP:FiM fan to enjoy.
Chapters (16)