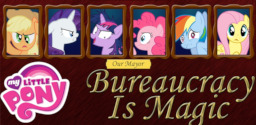 =====Originally Written February 2012===== EQD Post=====
After overwhelming Ponyville's mayor, the main six must fill in as she takes a much needed vacation. Yet, only one pony can take the title of mayor at one time. Which of our favorite ponies will be the first substitute mayor? How long will she be able to last before passing the job to somepony else? And in the end, will Ponyville survive long enough for its real mayor to return?
This story was written as a prize commission for the Smile Album Charity Event. The original prize was one by Stormy Seas and he provided the original premise for this story. He always wanted a story that could be shared and enjoyed by everyone, so be sure to thank him if you know him.
Chapters (1)