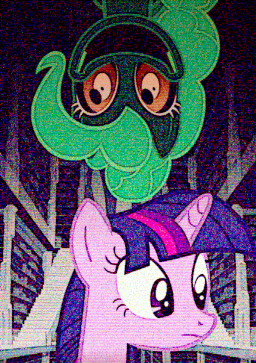 This story is a sequel to Abandoned by Pinkie
---
Note: It is strongly suggested that you read my fic Abandoned by Pinkie before reading this story.
Caramel has decided to investigate the rumor of some episodes belonging to the show The World of Pinkie, by the Cheesy Pie Corporation that seem to be rather controversial.
Did the company actually make them or is something darker responsible for these videos? Sometimes things are best left... hidden.
---
This story while taking place in the Abandoned by Pinkie universe is also very loosely inspired by the following creepypastas:
-Squidward's Suicide
-Max and Ruby 0004
-Candle Cove
And SCP-993.
Constructive Feedback, Editing and Proofreading:
-Thunderbolt Sentinel
-TheDizzyDan
You both are awesome!

This story also features Thunderbolt Sentinel's OC: Shifting Winds.
I made the image using GIMP.
Chapters (1)