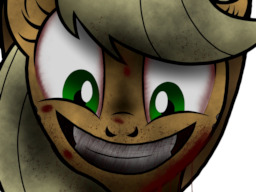 Source
This story is a sequel to The Apple left behind
---
After seeing the Apple family farm fall apart Filthy Rich decides to lend a helping hoof to the last surviving member of the Apple family; Applejack so she can restore the farm and the creation of Zap Apple Jam can resume. However little does he know she has other plans for his money.
Notes:
-This story was proofread by: 0_0
-The image belongs to AnAppleForgotten. Check out her deviant art page.
-Once again this part of an art trade I did for AnAppleForgotten and is a continuation of the previous story I wrote for her.
-I would like to say there will be more parts in the future but as of now I am really tired and I have LOTS of other projects I need to finish so it may be a while until the next part comes out.
Chapters (1)