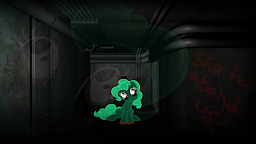 After Lord Tirek was conquered, Pinkie Pie and Cheese Sandwich join forces to create the Cheesy Pie Corporation and started creating theme parks around Equestria. At one point Pinkie Pie had the idea of sharing the fun with the Zebra nation and a park was made in the Zebra country, only to be abandoned later.
Now Neon Lights has decided to investigate the ruined park, to learn the reason behind the parks closure.
However, the stallion will soon learn that some things are best left... Abandoned.
~~~
This story is based off the creepypasta: Abandoned by Disney. After all it is a crossover.

The story was edited by: Pon de Don
With further proofreading by: Gadgetphile
The image was made using GIMP.
You can check out my Abandoned by Pinkie artwork: Here.
Now you can find a Youtube Reading of this story: Here.
There is also an Abandoned by Pinkie Tumblr page, which may or may not be expanded upon depending how popular it becomes. Tumblr: Here.
Chapters (1)