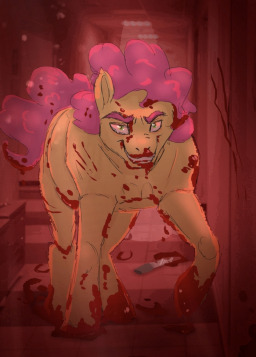 Source
This story is a sequel to The Definition of Insanity
---
Lil' Cheese lost his Mommy, and he will stop at nothing to find her - unfortunately for Pudding, the hostage negotiator in charge of untangling this mess.
---
This is a sequel to Snow Quill's story The Definition of Insanity, written (with her blessing) as part of a 'shitty sequel' event some friends ran. It's intended to subvert the spirit of the original and generally shit all over it, in a funny way. You can read this story without reading Snow's, but if you'd like to read something beautiful and sad, and then something that disrespects that entirely, you should read them both.
CW for some gore and violence. This is dark comedy.
Chapters (1)