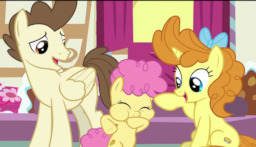 Source
The Cake Twins have always wanted to do something special for their Auntie Pinkie Pie, especially since they know she was their foalsitter when they were younger. But they've never been able to find a way to thank her properly.
Fortunately, an opportunity gets almost literally dropped into their hooves when they're pressed into emergency foalsitting service for Pinkie Pie's foal: Lil' Cheese. Pinkie desperately needs a break and nopony else is available.
The twins thus agree to look after the little colt. But Lil' Cheese is going to give his new foalsitters more than a few headaches before all's said and done. Will the twins be able to keep up with him? Or will Lil' Cheese drive them as crazy as they once drove their Auntie Pinkie Pie?
(Featured on 4/04/2022.)
Chapters (1)