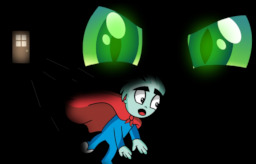 The stakes are higher than ever in Sam's latest adventure. Instead of having to recover his personal property, telling Thunder and Lightning to knock it off, or getting revenge on the cookies that spoiled his dinner, Sam must save his... big brother Mark from the clutches of Queen Chrysalis? Talk about a step up the hero ladder.
Why does she want his brother and what does she plan to do with him? Sam has no idea, but that won't stop him from diving headfirst into Equestria, swiping everything that isn't nailed down, and running away screaming at even the mere sight of Princess Twilight and her dreaded tea party.
A.N.: Straight crossover between Pajama Sam and MLP:FiM.
As a quick rundown for anyone not familiar with the series, Pajama Sam is a children's point-and-click adventure game series that was published by Humongous Entertainment from 1996 to 2003. It involved Pajama Sam, the titular character, traveling to fantastical worlds full of interesting characters to achieve goals and learn life lessons. The gameplay gimmick of the series (and the company in general) was that every primary goal had two distinct solutions, only one of which would be selected per play-through. This meant you had to play the game at least twice in order to see everything, and each entry had sixteen different possible paths to choose from, greatly increasing replay value.
Custom cover art by the talented SoarinDash959.
Chapters (3)