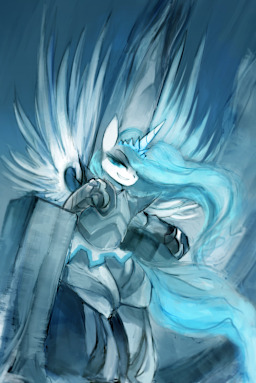 This story is a sequel to Stardust
---
Everyone knows the story of Hearths Warming Eve. They know the tales of the three pony tribes and how their strife brought the Windigoes upon them, and how the Fires of Friendship saved them from their frozen fates. For countless generations the tale has been told, but how has it changed over those years?
Or is any of it true in the first place?
Only one pony knows, and Celestia would prefer that the past stay forgotten.
(Based on a 'What If' line of thought that was born from the Stardust storyline. While some familiarity with Stardust and Mente Materia doesn't hurt, this story can be enjoyed on its own)
(Coverart available soon from the amazing FoxInShadow!)
(Many thanks to Arzoo, BradTheBrony, Vandenbz, and Setokaiva for prereading!)
(Complete with it's own TVTropes page as part of the Stardust continuity)
(Character tags will be added as chapters are added!)
(Possible spoilers in the comments! BEWARE!)
Chapters (12)