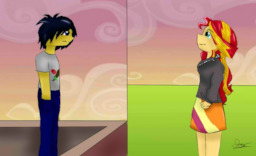 A former villain on the road to reformation, still facing the consequences of her past actions. Five girls, together again, thinking fondly of the help and guidance they got from the pony princess from another dimension. And one troubled boy stuck in the middle, who has given up on love, and life.
Sunset Shimmer has reformed, but she knows she must right her past wrongs—there is a boy on the roof of Canterlot High, declared worthless and unlovable by Sunset herself, ready to believe her right and jump to his death. With help from Applejack, Rarity, Rainbow Dash, Fluttershy and Pinkie Pie, Sunset must talk him down and convince him that what she said in the past isn't true, and that he deserves to live.
Meanwhile, the boy thinks back on his numerous attempts to prove to her, and to himself, that she was wrong. His solution: ask the five most perfect girls in school out on a date. Their mutual response: no. He must learn that love doesn't work that way, that a lack of romance is not a lack of love, and that he desperately needs help before it's too late.
Set in the Equestria Girls universe. Props to HudsonHawk for the title, and an extra special thanks to xoxPinkiePiexox for the excellent new cover art!
Chapters (11)