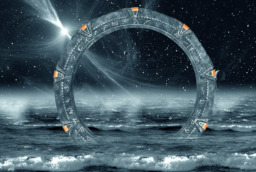 Please READ the description first:
This story is indeed AU, though not by a whole lot, less as AU as my previous Stargate crossover. Hope you enjoy the past 6 weeks of toiling...
Artwork by: mercscilla on DA
In 2011 a small fleet of ships dispatched from Atlantis arrive in an strange mystical reality when a mission on the hunt for Genii leader Augustus Kolya goes horribly wrong. The Atlantis expedition force now stranded in this new reality must find a way back, but also take the time to explore this strange world of Magic and Ponies. Join Sheppard, Carter and others in their adventures.
Chapters (1)