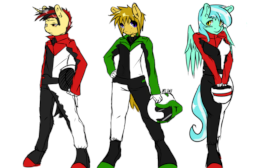 Over a thousand years ago, a dark entity known as Nightmare Moon rose and brought Equestria into war with itself, but thanks to the powers of the elements of harmony and the creation of the machines called mobile suits, Celestia defeated Nightmare Moon and banished her to the moon. But over a thousand years have passed, and Celestia fears the return of Nightmare Moon. Meanwhile the wheels of time turn across the world, Nightmare plots for her return to her homeworld. And Celestia waits vigilantly to meet her.
But one colt is to be the greatest factor in all of this, Ray Swift, a young colt living on the Helios colony is dragged into the war as Nightmare Moon makes her move against Equestria from the shadows, join the Astral Legends as they step down into the annals of history.
Yes this is going to be anthro ponies, and other races.
This will be a little based on every gundam series, so don't be surprised when you see mobile suits of all sorts appearing in this. But this is following the primary storyline of 0079, at least trying to in some sense.
Artist is Avante92, and I commissioned the picture for this.
Chapters (1)