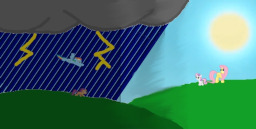 Please read the entire description!
Storms can be both of the physical and mental kinds, both hazardist in their own ways. One ravages the land, destroying homes and property and leaving a physical scar. The other ravages the mind and soul, sometimes leaving scars that can't be seen and hurt just as much.
Rainbow Dash is one of the toughest ponies in Ponyville and she got that title by not letting anyone see her hurt or get hurt. She is unprepared to face the pain of the past when it comes to dealing with the future; it will take the help of a long time friend to be able to move forward.
Scootaloo has been running from her own pain and troubles for a while now, unwilling to let anyone see the hurt she had suffered. Hiding her own tragic past, she lives a life of fear and on the edge of being caught by that painful past. Can her idol and friends help her see that it's ok to feel and stop running?
This takes place in the same 'universe' as the rest of my stories; The Adventures of the Cutie Mark Crusaders - Fillies on a Mission!, A 'Not So Simple' Simple Life , The Party Animal and the Bookworm, and A New Kind of Party. It's not required to read these other stories to understand this one but it would give you the full picture.
Co-made with Gwg, who helps with story, ideas, and editing/reviewing this story.
EDIT(12/2/14): It's come to my attention that some are displeased with the CMC chapters (both as a shipping and as a break in the FlutterDash story). I would like to take this moment to point out how this is a story about FOUR ponies and their growth, not just the older ones. I do understand how this can seem abrupt in change however and shall mark the chapters accordingly.
Next to the chapter numbers, I will place letters showing who the main focus will be on. FS = Fluttershy, RD = Rainbow Dash, SB = Sweetie Belle, and S = Scootaloo. 'All' will be used when all four are in the chapter and have equal importance to it.
Meanwhile, I will make and link blogs that correspond to whatever 'hiccup' readers have mentioned in the comments with reasons of why I wrote/did whatever in the story, so that it doesn't take up lots of room in the story or comments section. If you wish to talk/discuss anything on that particular topic, please see the corresponding blog about it. I do appreciate the comments and opinions though, and will try to respond properly to them.
If you don't like something adn give the story a thumbs down, please explain why with a message or comment.
Chapters (19)