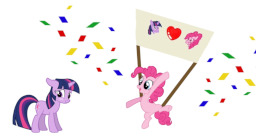 This story is a sequel to The Party Animal and the Bookworm
---
After the what would seem like an ordinary birthday party, Twilight and Pinkie Pie have found a new kind of party of the heart with one another. Can either mare put up with the ecentric nature or will their differences tear them apart? Then there's usual trials of relationships, something neither mare had any previous experience with. Can they see past the differences that would otherwise divide them to enjoy and a new kind of party?
Find out!
This takes place in the same 'universe' as my other stories; The Adventures of the Cutie Mark Crusaders - Fillies on a Mission!, A 'Not So Simple' Simple Life , and Taming the Storm. These are not required to be read to understand what's happening, but it helps to give a full picture.
The 'sex' tag is for how cuddly these guys get from the very start.
Co-made with Gwg, who helps with story, ideas, and editing/reviewing this story.
Chapters (22)