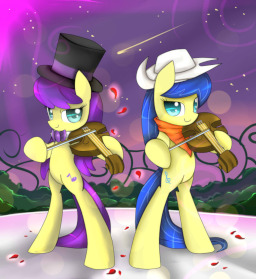 Source
Fiona Buckner-Smith (human Fiddlesticks) wishes to expand her musical horizons, and enters Celestia's Royal Academy with this goal in mind. But she finds that her country background and scholarship marks her as vastly different from the other freshmen in the music section.
Viola Krauss (human Symphony) is a rising star in the violin section, expecting her way paved with her family heritage and skills, only to find some backwater amateur upsets her plans. Finding herself suddenly challenged for first chair, she tries to answer with one of her own.
Two girls, both violinists and wanting to reach the top, find the other in their path. Can they work together to reach there or will jealousy and envy for one another drive a wedge between them?
EDIT: Yes, I changed the names. I used their pony names to get it to pass submission. I feel guilty and yet not. GTVS: The Great Teacher Vinyl Scratch is the sequel to this story (though this story was made AFTER GTVS started and got really far). I got the author's permission to write this and everything in here is correct and aligned with the cannon of his story.
Chapters (4)