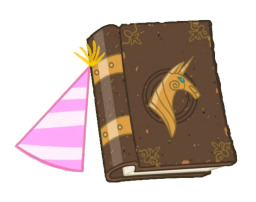 Twilight moves to Ponyville, learning about friendship with the help of her five best friends. Little does she know that one of these friends has always wanted a little more than friendship. Can she learn about a new kind of friendship? How does 'Pinkie Sense' work? Will two of the most polar opposite mares in the town ever realize what they mean to one another? Find out in the story of the Party Animal and the Bookworm!
Edit: yes, I've changed a few things if you are re-reading this. I'm trying to get it all updated and fixed up; please let me know if anything's wrong. Gwg is a HUGE help in editing this among all my other work.
If you don't like it and give it a thumbs down, please let me know; I like to learn what I did wrong to either fix it or grow from it.
This story takes place in the same 'universe' as all my other stories; The Cutie Mark Crusaders - Fillies on a Mission!, A 'Not So Simple' Simple Life, Taming the Storm, and Tank's Monologue. Reading the others isn't required but it helps to give a fuller picture of what's going on.
The sequel is A New Kind of Party. Enjoy!
Chapters (15)