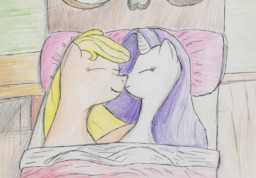 (EDITED FOR A BETTER STORY PLEASURE)
Taking place 14 years after A 'Not So Simple' Simple Life, Applejack and Rarity finish the last of their Hearth's Warming preparations, just in time for more of the Apple Family to join them for the evening.
A short little one-shot of slice of life and fluff, that's sweet and to the point. Set in a world where Applejack and Rarity has been married for 13 years and they've taken over the care of Sweet Apple Acres. Big Mac has gone to start his own farm while Granny Smith enjoys a wild retirement.
Reviewed by Gwg.
Made for and luckily in time for the winter holidays. Happy holidays guys! Thanks for sticking with me for so long. Here's to many more!
Want to see the deviantart picture of this? Click HERE!
EDIT: Please remember, if you don't like the story, please leave a comment as to why. Then maybe I could improve it or offer a reason why I did whatever. Also, if you notice any grammatical issues, please let me know. Just in case.
Chapters (1)