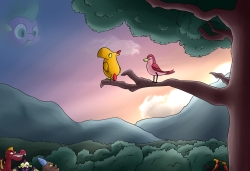 Source
Peewee has been living with his phoenix family for a while, happy to be with them. Recently, however, the young phoenix has grown homesick for his old caretaker Spike. One day, he decides to bid his family farewell and return to the dragon who saved his life. Thus begins a long and epic journey involving mean dragons, a flirtatious robin, an epic space battle, and more!
(Note: Not all of those things will actually appear in the story.)
Cover art by Erockertorres!
Chapters (7)