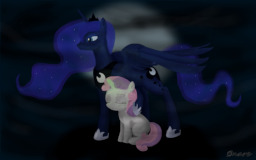 Source
Am I going insane? Darkness surrounds me. There is no light to be found. Can you feel my fear? Can you see that I am losing control? Please tell me you won't leave. I can't be alone anymore.
None among us holds all the answers in the heart of the most solemn and barren night. Have you questioned all the madness you invite? What your life is all about? Every night I struggle through it once more, bottling up myself to preserve for a time when I do not fear losing it. Every day I put a brave face on, feeling helpless to face it alone. It is hard, sometimes, to tell that I cannot change who I am, how I feel. There is no end for me.
None can imagine what I must go through, every single day, as I spiral further and further from what I need. I am not asking any to save me, however; I'm too far from the light.
Thanks to my editor, AtomicMuffin.
Chapters (4)