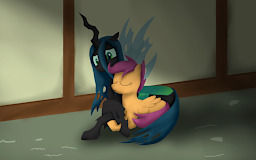 Source
After feeling sad Scootaloo finds comfort in someone special to her that she had long time without seeing, but things didn't end as she expected.
Special thanks to my editors:
AtomicMuffin
Poets Dream
Note:
This story was written before the Flight To The Finish episode. Any resemblance, even the smallest ones, is pure coincidence.
Chapters (1)