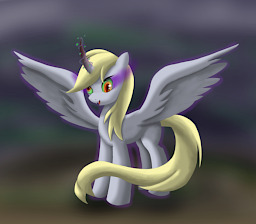 Equestria had face may terrors on the pass of the centuries, especially in the last years since Princess Luna's return. But nothing is compared to what is coming. Will ponies survive? Or will they be crushed under the hoof of true terror?
When certain mailmare finds a source of great power, Equestria and the life of every pony will change forever. For good or evil is still uncertain.
---
I'm not sure if I should add the Dark tag. It isn't that dark, but have some little dark moments.
I'll put a Slightly Dark tag here.
Special thanks to my editor, Scootareader
Covert art by myself.
Chapters (1)