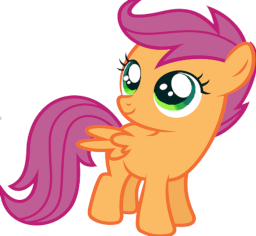 Source
When you don't know where your roots are from, it's hard to believe what you don't want to hear.
Scootaloo grew up her entire life as an orphan. She never lived in an orphanage, however, and chose the life of an outcast. Little did she know, that her life was part of something big.
With the Royal Wedding coming up, Princess Cadance has been acting unusually strange towards the young orange pegasus. Not only her, but her three bridesmaids have been climbing over eachother just to get a glimpse of the filly. Why are they doing this? She has no idea.
Chapters (2)