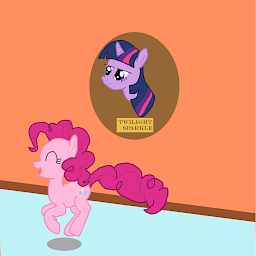 Teleporting usually doesn't cause problems for Twilight, but today it did. Instead of ending up outside, she ended up in Pinkie's second house. In a wall.
How is an alicorn to deal?
---
I wrote this in maybe an hour to two hours. This one just kinda popped into my head, and much of it I wrote when I was supposed to be sleeping.
I drew the picture myself in (total) about 4 or 5 hours. I colored it in GIMP. A speed-paint (what does that really mean, anyways?) video will be out soon.
EDIT: Please, no more perverted comments about what would happen if Twilight's butt was sticking out. Twilight does not appreciate it, and Pinkie says "Shame on you!"
CURRENTLY UNDERGOING EDITS! Not really...
Chapters (1)