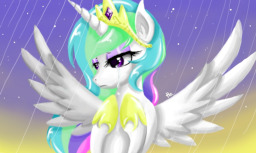 Princess Celestia X Human OC. Enjoy and tell me what you think :)
My name is Samuel Higgott. And this is how I met Princess Celestia...and how we fell in love...and how we fell apart.
In a moment of weakness, all it can take is one person to break two hearts. And in this case...I broke hers.
I decided to upload this onto FIMfiction because I feel like it would be appreciated :) I may be wrong, but I might be right and you'll hopefully enjoy this.
Off we go then!
Sex is only mentioned but I'll chuck up the warning just to be safe XD
Chapters (2)