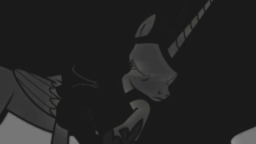 Written as a self imposed 45 minute challenge for originality. The aim - Write a one shot in forty five minutes or less, with two thousand words or less (Though a little over is okay too) It must be as original as I can make it!
They came from nowhere, claiming victim after victim with no regard to their species. Dragonkind fell first, and Changelings were never heard from again.
Now all that remain of Equis stand frightened and unprepared as the army of gaseous creatures, one's akin to living shadow float on up towards Canterlot Castle to find their 'child'.
Chapters (1)