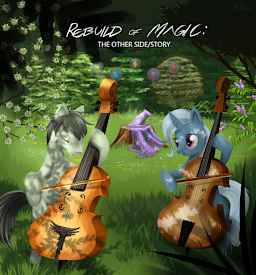 Source
"It's true, people will continue to hate and scorn me. But if it means I can feel what it's like to be loved again, to see my friends just one last time, I can endure anything."—Trixie Lulamoon
On the day in which Equestria would have been blessed with a new Princess, Twilight Sparkle, the only mare who had ever offered me sincere kindness, vanished without a trace, taking with her the Element of Magic. As a result, the Elements are left incomplete, leaving Equestria vulnerable to the outside terrors once again.
Running on legends of a "Tree of Life" that can replace the Tree of Harmony's fruits, I, a mare lost in a sea of cacophony and loneliness, take it upon myself to journey into the unknown and save my homeland like the heroes of old. And in doing so, maybe wonder no longer what friendship could really be in a world that has rejected me for my sins.
My name is Trixie Lulamoon, the once Great and Powerful. And this is my story of the other side.
Pre-read by "All of the Above" and "Mercgilado."
Proofread/Edited by "Ryan Darling", "MrJoshy", "AlicornPriest", and "Knight of Cerebus."
Fantastical cover-art done by the amazing Doctor Tastybeaver.

Chapters (2)