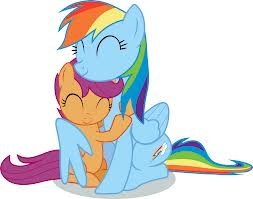 Rainbow Dash, who has finally achieved her dream of becoming a Wonderbolt, is about to be deployed for her first tour of active duty, but before heading, she takes some time to say goodbye to her close friends and loved ones, including spending a very intimate moment with a certain little pegasus filly who has looked up to her and adored her for so long. After all, who knows how long it will be before they see each other again...
I don't own MLP: FIM.
Click Here for Live Reading Seriously, they did a fantastic job with this.
Chapters (1)