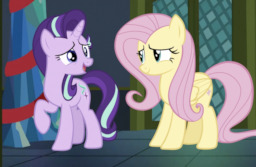 Source
After hearing Twilight's favorite Hearth's Warming story, Starlight was inspired to join the celebration... but it's still mostly made of ponies she doesn't know, and musical numbers only do so much.
Good thing there's a pony there who can empathize, and who's willing to listen. Maybe too willing...
Cover assembled from this and this. Set during Season 6.
---
This was written for IgnitedSage as a part of Jinglemas 2020! For more information about Jinglemas, check out our group!
Chapters (1)