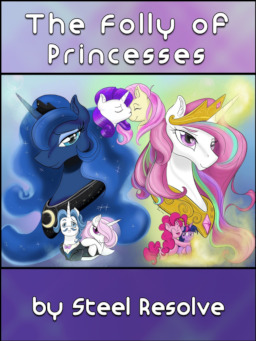 Source
This story is a sequel to Green
---
Celestia had resigned herself to a life of solitude, and had grown comfortable with that idea. She wasn't interested in sycophants who wanted to dote on her, or in anypony who would wish to marry her for power's sake. But she still yearned for the true love of somepony who loved her for herself, so much so that it's quite literally driven her a little mad.
Luna, after being banished for one thousand years, was merely looking for good friends, and good times with them. But after seeing other possibilities, she begins to think of romance once again, albeit not in the forms that she'd previously thought of as the norm.
Both find love when they least expect it, neither quite know what to do when they find it.
Rated Teen for moments of sensuality, foreplay, and sexual themes. Reader discretion is advised.
Assistance by Karrakaz, Blue_Paladin42, TheGreatEater, Setokaiva
Cover Image by Nova Quill/Firimil, used with permission.
Additional graphical design by Novel-Idea.
Chapters (14)