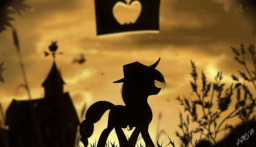 Source
This story is a sequel to The Guard of a Different Stripe
---
Despite the world around her changing constantly, Applejack has remained firm in her simple, country life. The world may change around her, but as long as she's got her family, her friends, and her farm, the old-fashioned apple bucker of Ponyville has no reason to change herself.
However, when a mysterious Equestrian Collie emerges one night from the Everfree Forest, her stable farming life takes a turn for the stranger when the pompous pup needs more than just her affection.
---
Takes place after The Guard of a Different Stripe, but can be read alone.
Edited by: TheAncientPolitzanian
Proofread by: Alchemik
Preread by: King (AKA Kingsredarmy)
Cover Found Here: Sweet Apple Acres by ZIG-WORD
Special Thanks to Bicyclette for helping with the Short and Long Descriptions.
Will Update during Electro Swing downtime until either this or Electro Swing finishes.
Chapters (13)