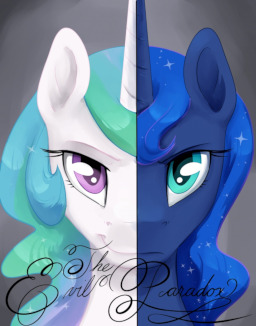 Source
Chapter 24: In progress.
---
I've been in Equestria for over 1500 years, and the memory of what I did to Luna and Celestia is still there, like a dull ache that will never go away. As an immortal, I'm going to have the next few thousand years to get used to it. Despite that, only thirty years have passed back on Earth. I wonder what's become of Luna since we traded places. Is she alive? Dead? Married with kids?
My name's Catherine, and you're probably wondering what I'm babbling on about. If you'll bear with me, I'll start where it all began.
---
Tags (character and otherwise) will be updated as necessary. Rated teen for strong themes.
Character Sheet. (Work in progress.)
Cover art by Silfoe
High-resolution
Textless version
Edited and Proofread by:
Journeyman
thesaviour711
Greenback
Jay the Stormtrooper
Requiem17
Samaru163
Flammenwerfer
This list will be added to as people help. This includes single chapters and mutual favours.
Creative discussion and constructive criticism are welcome.
All OCs belong to me unless otherwise specified. Any likeness towards other characters and names is purely coincidental.
Update Features (D/M)
2017: 24/05, 24/06, 15/11, 19/12
2018: 21/02, 15/03, 9/04, 17/5, 4/6, 23/7, 29/08, 18/9, 26/10, 14/12
2019: 9/03
2020: 9/03
2022: 26/01
Chapters (25)