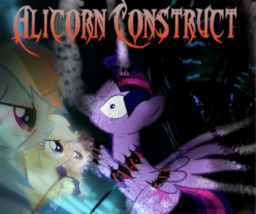 In the past, Ponykind attempted to create alicorns, legendary creatures said to be like the goddesses themselves. But then, the War started, the goddesses vanished, and the constructs of science and magic turned their abilities on the living.
Now, years later, the world is struggling to pick up from where it left off, and the constructed alicorns are ingrained into everypony's mind as being soulless monsters. And despite the warring factions outside destroying what alicorns they come across, the Alicorn Project is still in operation.
In contrast to the outside world, for the new alicorns, life seems perfect. They're permitted to interact with each other, communicate with the Interface who acts as their teacher, and grow for Placement in a registered family they could call their own.
But one alicorn named Twilight, set to be placed with the Sparkle family, struggles with questions. Why her family-to-be seems so protective of her. Why the Interface refuses to tell her everything.
And why everyone refuses to let her go Outside.
Chapters (3)