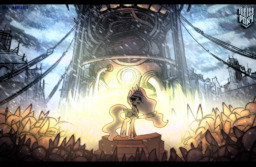 Source
After a mysterious frost falls over the lands of Equestria, ponies are forced to flee to the Far North to escape the eternal winter. There, around several coal-powered furnaces called Generators, they may generate enough heat to guarantee the survival of ponykind and civilization among the snow and frost.
However, as the temperature drops, and their situation becomes increasingly desperate, the ponies of New Ponyville must make the hard decisions.
What is the worth of a foal's life?
What lengths must be taken while facing starvation?
What must be sacrificed in the name of survival?
Where is the line between leader and tyrant?
There is only one wholistic truth among the howling winds and biting cold: The City Must Survive.
---
Based off of 11bit Studio's "Frostpunk"
Cover art found here: https://derpibooru.org/images/2816269
Chapters (16)