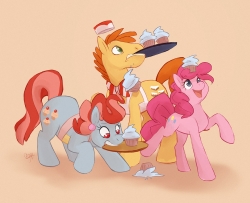 Mr. Cake is unhappy because of his wife's unknown-to-public true self. Will he have to endure the torture for the rest of his life or will a certain pink mare be the solution?
Not a clop.
I don't see why the characters of Mr and Mrs Cake aren't in the cast selection. I see them in alot of fics, knighty should add them.
If you have a problem with imagination, Think that the characters are actually non-fiction and think they are real with a train track of nature, Can't read heavy teen stuff. DO NOT READ THIS.
Chapters (6)