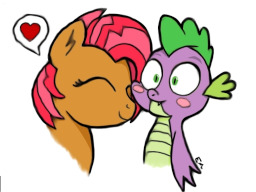 Made it to Popular List on 10/20/14
Babs had a crush on Spike for some time now. She always thought he was kind and gentle.
Spike always liked Babs. He thought she was the prettiest mare he had ever seen.
The Cutie Mark Crusaders decide that they should make the pair go on a date together, and boy did they succeed at bringing them close together.
A short and sweet one-shot dedicated for my special cutie, ShallowCupcake, since we think Spike and Babs are just like us.
Thanks to Ron Jeremy Pony for the help.
Chapters (1)